Congo Private Investigators & Investigation Services
Congo (Dem. Rep. of) private investigators prestigious unit of Severg, performing excellently in the field of private investigation by motivating the people to candidly use the excellent capabilities of highly skill full and dedicated professionals for giving the best supports in accessing the desired solutions of entire problems throughout the country. Severg is taking the sincere cause by developing the best investigations to remove all risks of frauds and corruption going extreme in all important activities conducted by organizations at various stages.

Severg is manipulative in its processes to deliver the well organized private investigation services find the easy protections in every activity carried out with an aim to grow in the businesses. We, at Severg are proud of all our private investigators in Congo (Dem. Rep. of) that are doing extremely well to boom the system which is set by Severg to support the organizations in their needs.

We well developed system have got the great recommendation from the clients and as an effect, our professionals are having the great deal in setting the best records to resolve the wide variety of issues of the clients by giving the tough going private investigations in entire region of Congo and other major cities like Kinshasa, Lubumbashi, Mbuji-Mayi, Kisangani, Kananga, Likasi, Boma, Tshikapa, Bukavu, Mwene-Ditu, Kikwit, Mbandaka, Matadi, Uvira and Butembo so that people get the ease in using our processes excellently.

Our Private Investigation Services in Congo as follows:-
Corporate Surveillance Services
Anti-Counterfeiting Investigations
Trademark, Design & Patent Infringement Investigation
IP Enforcement Actions
Insurance Claim Investigation
Corporate Due Diligence Investigation
Personal Detective Services
Corporate Investigations
Human Resources Investigations
Internal Investigation (Undercover)
Insurance Investigations
Information Gathering and Data Research
Legal Services or Process Servers
Background & Asset Check
Missing Persons Investigations
Congo Private Investigators: Restrictions for Investigations
Private investigations in Congo (Dem. Rep. of) conducted under the strict compliance of governing rules and laws of the country which prohibit us to conduct:
Stalking : Our investigators not responsible to conduct stalking of person or statement which shouldn't be given to the client but can be given to governmental police personnel.
Bugging and Tapping : This type of highly illegal and defamed activities always avoided by our lawful private investigators who are working for Severg in the territory of Congo (Dem. Rep. of).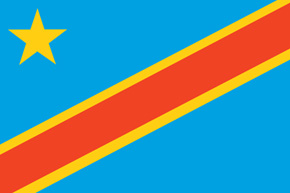 Contact Local Investigator